CHANGE Illinois joins bipartisan lawmakers to launch Fair Maps Amendment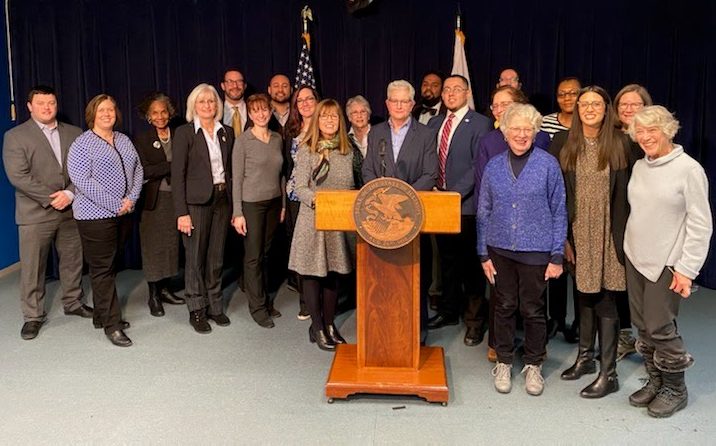 Click here to read the press release on the reintroduction of the Fair Maps Amendment.
Remarks delivered by CHANGE Illinois Executive Director Madeleine Doubek in Chicago Feb. 13, 2020 at the reintroduction of the Fair Maps Amendment, HJRCA 41 and SJRCA 18:

We are here today as part of a series of events, with others in the suburbs and downstate, to talk about the reintroduction of an improved version of the Fair Maps Amendment, SJRCA 18 and HJRCA 41.

As you all know, we're about to have a census and the results from it will be used to draw political maps next year. That means, under Illinois law, we have until May 3 to win approval for the Fair Maps Amendment which will create an independent citizens redistricting commission to draw maps out in the open.

The time for an end to gerrymandering is now so that we're not saddled with another 10 years of maps that stifle competition and suppress voters' choices. With new and returning lawmakers leading the fight for fair maps with us, we should move this legislation through the General Assembly. Senators Melinda Bush and John Curran are our Senate chief sponsors and Representatives Terra Costa Howard and Ryan Spain are our House chief sponsors. We thank them and all the other lawmakers standing with us for their commitment to fair maps. We've also added new community and organizational support. The Fair Maps Amendment is backed by a broad and diverse cross section of 28 organizations representing all of Illinois. Among them are AARP Illinois, the Farm Bureau, the state Chamber and Small Business Advocacy Council, Latinas Mujeres en Accion, Rainbow PUSH and the Chicago Urban League. And those are just a few.

Following a meeting last year with former Illinois Senate President John Cullerton and after working with our coalition's policy committee, we've made improvements to the amendment, including choosing commissioners from congressional districts, adding language to end prison gerrymandering and mirroring the Illinois Voting Rights Act. We've also loosened up the parameters on who can serve and upped the number of commissioners to 17 with 11 commissioners needed to approve maps. What that means is that no one group–Democrats, Republicans or independents–will be able to control map approval.

The people of Illinois overwhelmingly support redistricting reform and they deserve General Assembly votes. Polls repeatedly show it. The most recent by SIU's Paul Simon Institute found 67 percent of voters want an independent commission to draw our legislative lines. This is a democracy and the people should get votes on this legislation. The people of Illinois understand that we can't have honest government and hold politicians accountable if we don't have truly competitive elections.

As a sprawling federal corruption investigation continues, we should start to end corruption where it begins by ending gerrymandering. Politicians picking their voters clearly is the epitome of a conflict of interest. When politicians are protected by rigged maps, some of them come to believe they can act with impunity.

Across the country, more and more states have been improving their map-drawing processes. It's time for Fair Maps for Illinois. It's time to restore power to the people through Fair Maps.

Thank you.