Gerrymandering gives one political party or the other an advantage. It suppresses our voices and our votes. It leads to increased polarization and decreased accountability of elected officials to their constituents.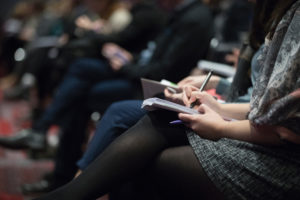 CHANGE Illinois believes redistricting works best when citizens are in charge of the process so that political maps expand civic participation, improve public confidence, and boost participation in elections and governance. Read on for questions and answers about redistricting reform.
About redistricting reform
Q: What is redistricting and why should anyone care?
A: Because of population changes, legislative district boundaries must be redrawn after each 10-year census. When the redistricting process is finished, each district should have roughly the same number of people within its boundaries.
That sounds simple enough, but there are many different ways to draw those lines for 118 Illinois House districts, 59 Senate districts and all the other government units in Illinois. District lines can keep everyone in a municipality together in the same legislative district and/or keep similar communities of interest together in the same legislative district. Alternatively, district lines can split a municipality apart and divide similar communities into different legislative districts. Sometimes, enough minority group members are kept together in the same district to aggregate voting power to influence who wins an election, and sometimes minority voting power is diluted by splitting people among many districts.
Q: How is redistricting done now in Illinois?
A: Currently, members of the Illinois General Assembly have the power to draw the maps. Historically, the legislative leaders of the party in power – no matter which party is in power – have drawn maps to protect their favored incumbents and improve their party's chances of winning as many House and Senate seats as possible to secure their hold on majority control. Instead of voters selecting legislators to represent them in Springfield, legislators choose which voters they will represent. This is voter suppression.

Q: What if neither party controls the House and Senate? How do they agree on new legislative boundaries?
A: They could reach a compromise, but this only has happened once. According to the 1970 Illinois Constitution, when legislators and the governor cannot agree on new district boundaries, an eight-member redistricting commission is formed. The members are appointed by the legislative leaders of both parties in the House and Senate. If those eight people can't reach a compromise, the Illinois Supreme Court provides the names of a Democrat and a Republican, and the one name that is drawn out of a replica Abraham Lincoln stovepipe hat, at random, becomes the "tiebreaker" – putting the tiebreaker's party in complete control of drawing maps to that party's political advantage.
Q: What's so bad about letting the political parties draw the maps?
A: As long as political parties draw the maps, the parties' primary objective will be to protect the interests of the party in control and its preferred incumbents. As a result, in the last several election cycles, about half of the legislative races were uncontested.
When there is little competition, there is little debate about topics that matter to voters and elected officials have little incentive to be responsive to their constituents. When voters don't have meaningful choices in an election, many don't become engaged in the process at all and democracy suffers.
Q: Has any research been done on the subject of independent redistricting?
A: Yes. "Partisan Advantage and Competitiveness in Illinois Redistricting," published by the Paul Simon Public Policy Institute, explains why the Illinois legislative redistricting process is broken and offers solutions. The report was researched and written by Kent Redfield, professor emeritus at the University of Illinois at Springfield, and Cynthia Canary, former executive director of the Illinois Campaign for Political Reform. The paper was written originally for CHANGE Illinois. Click HERE to read the report.
Additionally, "Redistricting Reformed," a 2014 briefing paper by CHANGE Illinois, summarizes what happened in states where redistricting reform became a reality. The authors are Nicholas Stephanopoulos, who was then a professor of law at the University of Chicago Law School, and Ruth Greenwood, co-director of voting rights and redistricting at Campaign Legal Center. Click HERE to read that paper.
Reports and transcripts of panel discussions from the Paul Simon Public Policy Institute's 2013 symposium: "Who Hold the Crayons? How Other States Draw Their Legislative District Lines" can be found HERE.
About the path forward
Q: What happened to the citizens' initiative to get a redistricting reform measure on the ballot last November?
A: Political bosses in Illinois sued the citizens' initiative, led by the Independent Map Amendment coalition, after the Illinois State Board of Elections gave its approval to move forward. The case ultimately went to the Illinois Supreme Court. On August 25, 2016, Illinois Supreme Court justices decided to block the initiative from getting on the November ballot. As a result, voters never got the chance to decide the question even though more than 560,000 people from all over Illinois supported the initiative and more than 70 percent of Illinois citizens supported reform.
Q: Who is leading the fight for redistricting reform in Illinois today?
A: CHANGE Illinois, a diverse and growing coalition of reform-minded organizations across Illinois, currently leads the redistricting reform movement in Illinois and continues much of the public education and legislative outreach begun by the 2016 Independent Map Amendment campaign.

Q: What is CHANGE Illinois doing to achieve redistricting reform in Illinois?
A: CHANGE Illinois is raising funds, engaging lawmakers and the public, organizing supporters, and continuing to educate stakeholders about the need for redistricting reform. The Fair Maps Amendment has been introduced in the Illinois Senate and House. Please contact your lawmakers and ask them to support the amendment (SJRCA18/HJRCA41). Please also sign up for our regular email updates and follow CHANGE Illinois on Facebook and Twitter to stay up to date on how you can help advance redistricting reform in Illinois. And tell your family and friends about our work and about the need for independent redistricting.
Q: Is there any hope for achieving redistricting reform in Illinois?
A: Yes, but only if pressure remains on politicians from people across the state en masse. The best asset the redistricting reform movement in Illinois has is size. More than 500,000 people across the state supported redistricting reform and polling shows that an overwhelming majority of Illinoisans support it. Politicians cannot ignore reform if enough people around the state keep demanding it and telling them it's their priority.
Q: What can I do to help advance redistricting reform in Illinois?
A: There are a few important things you can do:
Follow us on Facebook and Twitter for breaking news and timely updates about how to advance reform in Illinois.
Sign-up for news, updates, and opportunities to make your voice heard here. We will keep you informed about legislative efforts, court developments, and other events. In addition, we will let you know when politicians need to hear from the people so that they do the right thing.
Tell your family members, friends and networks to sign up for our emails and ask them to follow us on Facebook and Twitter.
Contact your elected officials, ask them where they stand on redistricting reform and let them know you want them to support the Fair Maps Amendment! This step is critically important to our success. Lawmakers need to hear from all of us and a call or email only takes a minute or two.