Today, Senator Melinda Bush, Senator Heather Steans and Senator Andy Manar convened a group of legislators and good government advocates to release their plan to reform the culture of corruption in Springfield.
The Senators joined their colleagues Representative Kelly Cassidy, Representative Mary Edly-Allen, Senator Iris Martinez, Representative Bob Morgan, Representative Jonathan "Yoni" Pizer, Representative Lindsey LaPointe, and Representative Delia Ramirez to make recommendations to the Joint Commission on Ethics and Lobbying Reform before they release their report.
You can watch the entire press conference here: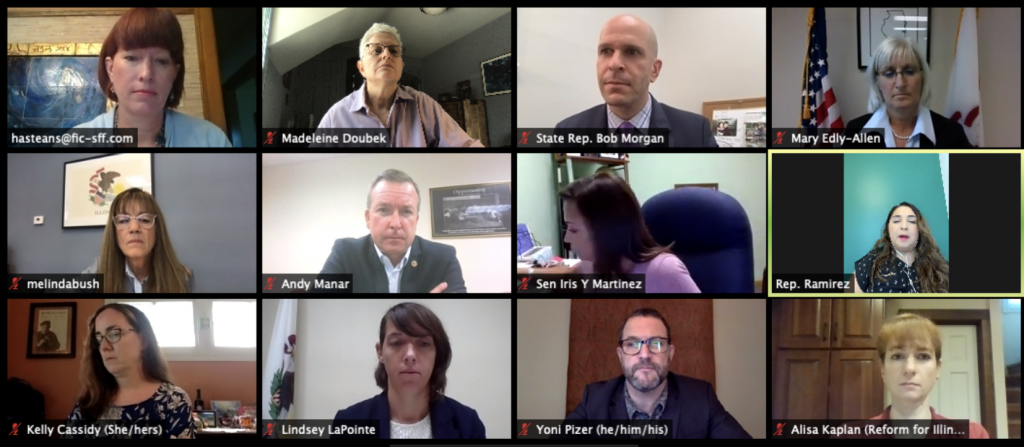 Senator Melinda Bush said that, "A culture of corruption can only exist in silence. This fall, we must pass sweeping ethics reforms. It's imperative that something is done to restore the trust of the citizens of Illinois. It's time to stand together. We're asking every one of our fellow legislators to stand with us. Add your name. Be counted."
State Sen. Heather Steans noted Illinois is one of only 11 states without any revolving-door policy to create a cooling-off period before a lawmaker can quit and immediately become a lobbyist. "The culture in Springfield is broken," she said.
State Rep. Kelly Cassidy emphasized that, "It's critical to have a clear process" for both chambers and in the law for the removal of leadership and committee chair posts when lawmakers are under investigation and a process for restoring those posts when an investigation ends with no charges.
CHANGE Illinois is pleased to support this package of ethics improvements. Madeleine Doubek, Executive Director of CHANGE Illinois released a statement of support saying, "We commend these leading lawmakers and look forward to helping them push for passage of these significant and long-needed reforms. Let's take our power back from ComEd and other insiders and return it to all Illinoisans where it belongs. We must start to restore the people's trust in our democratic foundations."