A recording of the press conference can be found here.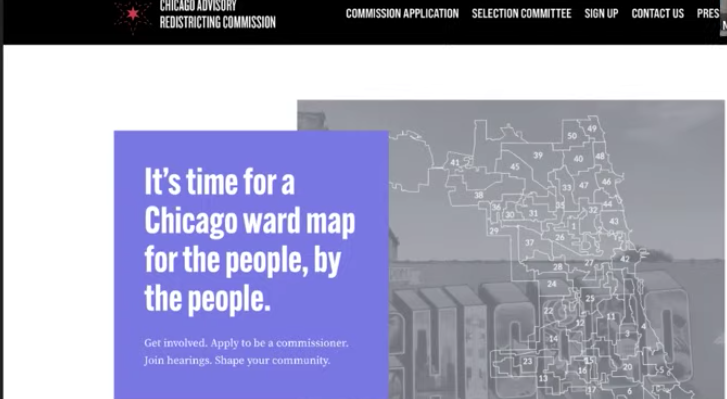 CHICAGO–CHANGE Illinois, diverse community groups and advocates announced Tuesday they are creating and supporting a Chicago Advisory Redistricting Commission to draw a people-powered and community-centered ward map for the city.
"We're inviting Chicagoans to rise up and join in this effort to reshape the city in this critical redistricting year," said CHANGE Illinois Executive Director Madeleine Doubek.
"The days of deals over back-room maps are done. We're going to make possible a ward map for Chicago, created by Chicagoans."
An independent committee of diverse, respected leaders will choose 13 commissioners from among a pool of applicants for the commission. Chicagoans from every community are invited to apply now to serve on the commission at www.chicagoswards.org. Applications for the commission are available in the nine most prevalent languages spoken in Chicago. The deadline to apply will be April 9, 2021. Commissioners who gather and listen to community input in open hearings and who see a map through to completion will be eligible for a $5,000 stipend at the completion of their service. They will receive training in voting rights laws and independent mapping principles, and will work with an experienced mapper.
"Our aim is to create a commission that reflects the rich geographic, racial, ethnic and economic diversity of the city," said Chaundra Van Dyk, CHANGE Illinois' Chicago project manager. "We seek commissioners who will listen to their fellow Chicagoans to create a map that ends, as much as possible, the splintering of neighborhoods and communities, especially in historically neglected areas of the city."
The volunteer committee members who will select commissioners are: DePaul University political science professor Dr. Christina Rivers, whose work focuses on early black political thought, race, representation, and voting rights; C.W. Chan, a retired entrepreneur with decades of community service in the Chinese-American community; Roberto Valdez, senior external relations, with the nonprofit Latino Policy Forum; and Adam Alonso, CEO of BUILD Chicago, a nonprofit working on gang intervention, violence prevention and youth development on the city's west side. University of Illinois-Chicago Political Science Professor Dick Simpson will serve as an adviser to the committee.
Once the committee selects commission members and they are trained, they will be charged with conducting a series of open public hearings to gather input on what ward boundaries and communities should look like across the city. Residents are encouraged to testify and submit maps of their communities of interest to the commission. The commission is expected to work regularly through the spring and summer. Census data will be released in September and the commission will need to use the data to quickly settle on a final map which we then will seek to have introduced to win support in the City Council by Dec. 1.
By law, if more than one map receives the support of 10 council members, that triggers a special election so Chicago voters can choose their preferred map.
Various community representatives spoke in support of the commission's creation and an end to gerrymandered ward maps that protect incumbents.
Andy Kang, executive director of Asian Americans Advancing Justice-Chicago, said, "We're encouraging communities to be more involved. We're rejecting Chicago's past, the Machine politics, where very cynical considerations are what drives the decisions about the boundaries of our wards. And, I might add, our city's history, using this rigged system of drawing the lines by politicians to suppress communities of color for far too long."
Monse Ayala, a Gage Park resident and organizer from Increase the Peace from Back of the Yards and surrounding communities, spoke of her realization when she first began her organizing work about "how hard it was to just get something done when five different aldermen represent one neighborhood.
"If residents wanted to fix a streetlight or remove graffiti or get any city services," Ayala said, "there were five different people representing that one community. That created a state of confusion and, in some of the worst cases, apathy between city residents. We should be a part of these conversations where we should have a say about what our neighborhoods are going to look like for the next 10 years."
Kina Collins, an Austin resident and Executive Director of the Gun Violence Prevention Education Center & Illinois Council Against Handgun Violence, said, "When these election maps are drawn, it should be one person, one vote, and that principle should be put forward and we have not seen that in the Chicago model. The voter disenfranchisement and displacement of people in these communities has been a result of (a) the Chicago Machine, and (b) the back-room deals that have taken place when gerrymandering occurs. We cannot have a government for and by the people if it is not represented by all the people."
Rodney Johnson, president of One Health Englewood and a long-time Englewood resident, noted his community once had six aldermen and now has five. And as he has worked to get his neighborhood vaccinated, "I've yet to see all five come together and say, 'Hey, let's make a difference in our community.' People need to really know and understand how it (gerrymandering) affects them. I'm in full support of this effort."
"We have an incredible opportunity to change the culture in Chicago by fixing the remapping process that serves as the foundation of democracy," Doubek added. "It's time to give residents the power. We're calling on them to use their voices to shape their city for the future."
Organizations supporting the independent ward mapping commission process include Common Cause Illinois, the League of Women Voters of Chicago, the Latino Policy Forum, the Metropolitan Planning Council, Rainbow PUSH, United Nations Association Greater Chicago Chapter, NAACP West Side Chapter, The Southwest Collective, Independent Voters of Illinois Independent Precinct Organization, Peace & Education Coalition of Back of the Yards, One Health Englewood, Asian Americans Advancing Justice|Chicago, Increase the Peace, the Gun Violence Prevention Education Center & Illinois Council Against Handgun Violence.
We are indebted to the many groups and individuals funding the creation of the commission. Among them are The Chicago Community Trust; the Robert R. McCormick Foundation; Joe Manseuto, founder of Morningstar; and Steve Miller, founder of Origin Ventures.
Again, Chicagoans interested in serving on the Chicago Advisory Redistricting Commission will find an easy application form at www.chicagoswards.org