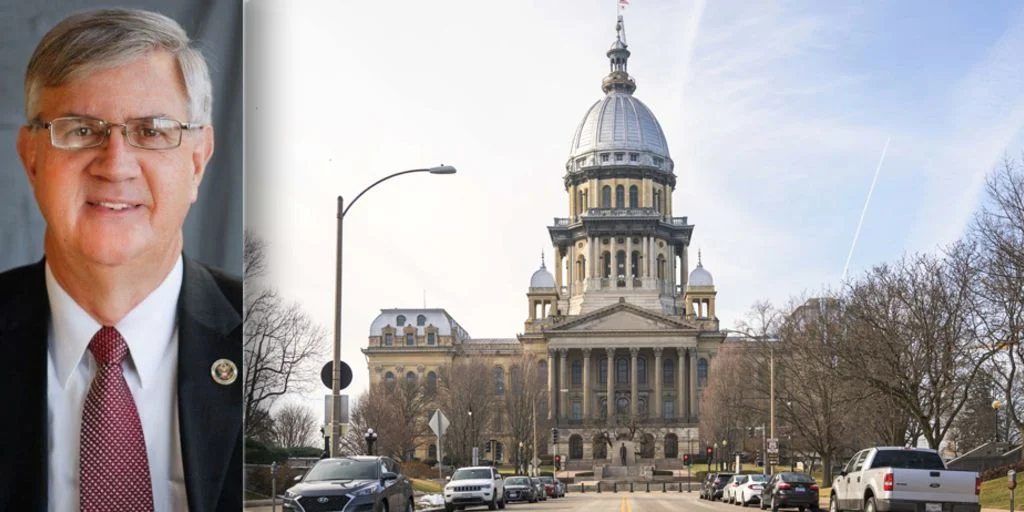 Illinois Legislative Inspector General Michael McCuskey isn't accidental anymore.
A former federal judge from the state's central district, McCuskey, 74, overwhelmingly was approved for a full, five-year term as the legislative branch's watchdog in the waning weeks of the spring legislative session.
McCuskey stumbled into the role 15 months ago after he offered himself up as an alternative when Democrats and Republicans again left the office vacant, briefly, while they were arguing over their preferred candidates.
The previous LIG, Carol Pope, had vacated the office with time remaining in her term after airing her frustrations that it wasn't fully empowered. She was not the first to complain. Another interim LIG, Julie Porter, and the first LIG, Tom Homer, also have publicly complained and urged lawmakers to give the office more independence. The LIG should have the ability to issue subpoenas and should not have to ask a panel of lawmakers and former lawmakers on the state's Legislative Ethics Commission if founded reports of wrongdoing may be made public, they've all said.
But, so far, McCuskey hasn't shared those frustrations, which might be why he secured a full, five-year term.
McCuskey literally is settling into Springfield and plans to move to the city soon from his home north of Peoria.
Perhaps it's the "ComEd Four" effect, but McCuskey said his first year was fairly uneventful.
He can't reveal what kinds of complaints were filed, but said there were 49 of them and his office looked into 14 of the 49. McCuskey said he didn't ask the ethics commission for permission to publish any reports on those.
"We did not have one allegation or complaint in my first year about corruption or fraud," McCuskey told me. "I think it had something to do with the Northern District of Illinois, or what was going on in the Northern District of Illinois," he said, referring to the recent ComEd corruption trial and the trial set for next April with former House Speaker Michael Madigan as the charged target. "It was a rather silent year."
Having been a federal judge, McCuskey says he knows he's never going to do a better job at investigating corruption than the feds in Chicago. "That's where it happens and that's where it still happens today," he said of the Northern District.
Instead, McCuskey believes he can provide a service by taking a proactive approach to preventing bad behavior and ethical lapses.
His office in the Stratton Building in Springfield is open every weekday, and they regularly take calls and direct those with non-legislative branch concerns to the proper authorities.
"Everyone thinks our office is so much bigger than it is," McCuskey said. "We're limited to the Legislature, their staff and employees, and we've never been a prosecutor. We say go to our website and see what we can do. We get paid to help people navigate government and that's why I like it. I get to help people and I also get to help people not make mistakes.
"A lot of times we get things resolved behind the scenes before somebody makes a mistake," he added.
Still, people in the Capitol are far from perfect. A few weeks ago, veteran state Rep. Mary Flowers made headlines when House Speaker Chris Welch announced he was taking away her leadership position and ability to attend Democratic caucus meetings because of what he said was a history of inappropriate comments and bullying behavior. There also was talk of an incident in which one lawmaker directed an "F" bomb at another.
But McCuskey couldn't act on either of those. He has no jurisdiction over what happens in private caucus meetings and the legislative section of the Illinois Constitution actually says, "A member shall not be held to answer before any other tribunal for any speech or debate, written or oral, in either house. These immunities shall apply to committee and legislative commission proceedings."
Pathetic, but true.
Still, McCuskey thinks he can make a difference with a proactive, preventive approach. He wants to make a difference by teaching people about statutory and ethical requirements so fewer people make fewer mistakes. "I want to keep it to as few bad apples as possible. You've been around government long enough to know they're in both parties and all over geographically."
Those bad apples? Well, federal officials in Chicago, with their vast resources, will keep chipping away.
"I think there was a different feeling in the Legislature that things are going on. I just think they were in fear of the Northern District," McCuskey said, "which they should be."
---
This column was originally published in Crain's Chicago Business on May 22, 2023. You can read the column in its original context here.